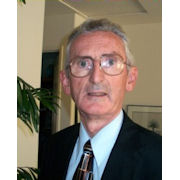 Desmond Colleran
Corporate Advisor
Since leaving his tenure as Vice Principal of Mater Dei High School in Santa Ana, Desmond has achieved many successes as a business consultant and strategist for small organizations regarding their business development and staffing issues.
With strong capabilities in developing strategic marketing plans, Desmond's clients include C-level managers, superior court judges, producers, media directors and attorneys who regard his experienced and professional direction of plan implementation as an invaluable resource.
With his successful background as Chief Operations Officer for Cecala, the marketing arm of the National Dyslexia Research Foundation, Desmond brings to ACTS a broad dimension of executive management experience culminating with his previous involvement in various highly regarded non-profit and charitable organizations. Desmond's goal with ACTS is to enhance the Company's sustainability in the areas of finances, strategic direction and planning, as well as sales and marketing, analyzing all aspects of Company operations and present ongoing strategies for future success.
Desmond is a graduate of All Hallows College, Dublin, Ireland and holds membership in the following organizations: International Board, Director, Society for Advancement of Management; Senior Consultant, Active Selection - Quest Career Marketing and Management Consulting; Senior Business Analyst - International Profit Associates.