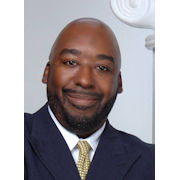 James Cooper
Council Menber
James R. Cooper is a Business Strategist, Co-Founder and Managing Director of Maxser Consulting Group, LLC, Pastor of Restoration International Christian Ministries and author of From Crackers to Caviar. James is also a Goodwill Ambassador for UNESCO United Nations Educational, Scientific and Cultural Organization.
James' professional journey spans over 25 years and began with the privilege of serving in the US Air Force as a Security Policeman and Military Working Dog Handler. Transitioning from the military back to the civilian world, tests your commitment, adaptability and resolve. An unexpected encounter led to a position as a security officer, and his corporate climb. God used that position as the door that has allowed James to manage multimillion dollar budget portfolios for several Fortune 500 corporations in a number of varying operational roles. While living in Charlotte, NC a new opportunity offered itself, in the IT field. With a change of direction and reduction in pay, he pressed into the new field and excelled to the point where he again led multimillion dollar projects as a Project and Program Manager.
Knowing there was still more to do; James was called to counsel, coach and teach uncommon leaders. This seemed difficult to imagine, but when God ordains a thing, it is done. With much prayer, worship and fasting, Restoration International Christian Ministries was launched at the beginning of 2010 and the book From Crackers to Caviar was published at the end of 2010. Each of the doors God has opened, with Governors, Ambassadors, Public and Private Business Professionals or Ministry leaders, James message of success and clarity of thinking has uniquely equipped him to assists in breaking through barriers to even higher levels of success.
James brings his many talents to ACTS serving on the Advisory Council, working with management to further opportunities presently available.