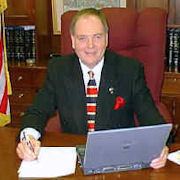 Dr. Sam Hancock
Green Technologies Advisor
Dr. Hancock is the President and Executive Director of EmeraldPlanet a world-wide environmental and economic development movement with its headquarters and television production studios located in Washington, D.C. USA.

EmeraldPlanet is a world-wide non-profit organization dedicated to identifying at least 1,000 'best practices' for sustainable environmental and economic development. Its efforts are to link those having such best practices with those needing the technologies, processes, services, and products to be outstanding ecological stewards of their resources.
As an active member of Rotary International since 1981 Dr. Hancock has been involved in various community based and international development projects. Dr. Hancock is a "Triple Sapphire" Paul Harris Fellow having made contributions to both local club and Rotary International foundations. He was inducted into the South Richmond Rotary Club where he was involved in identifying and establishing the Guyana Rotary Project where the South Richmond Rotary Club adopted this entire South American country working with the Guyanese Office of the President, most of the national Ministries, and all six local Rotary clubs.
Dr. Hancock has been instrumental in assisting ACTS with its sponsorship activities in support of job training initiatives through the ACTS Charitable Foundation. His commitment to the success of the Company's cloud computing job training efforts has resulted in the further advancement and acquisition of several job training venues that will offer ACTS opportunities in nationwide job creation activities.