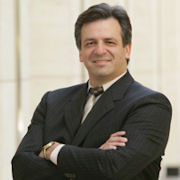 John Kostic
Corporate Financial Advisor
For more than 22 years, John has been a successful financial advisor helping individuals and families achieve their financial planning goals, by providing advice on Investment Planning; Insurance Planning; Tax Planning; Retirement Planning; Estate Planning; Intergenerational Wealth Transfer Planning; and Educational Savings Planning. He is dedicated to providing high-quality advice and integrated wealth management solutions that simplify and enhance the quality of his clients' lives.
Years of extensive financial services training and hands-on experience have taught John to always have a clear understanding of the issues before asking a client to make a decision. He is detailed oriented and has a passion for implementing thorough analysis as a best practice. He brings to ACTS as Corporate Financial Advisor, his vast expertise in the investment and financing arenas. John's main objectives with ACTS are to assist the company in successfully developing sound and practical strategies to achieve both short-term and long-term financial goals to perpetuate sustainable corporate growth and profitability.
John is the owner of the Newport Beach, CA. Wealth Management firm, Helix Wealth Partners. His diverse background also includes distinguished military service as a Captain in the Army, and unique experience as an "attack" helicopter pilot. John is a dedicated family man and his service to others is evidenced by his close ties to his church and military colleagues.