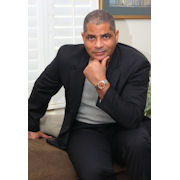 Raymond Howard
Chief Information Officer

Raymond brings his 40+ years experience as, an Automation and Information Management Systems Designer and Implementer to lead strategic planning and achieve business goals by identifying and prioritizing development initiatives and setting timetables for the evaluation, development, and deployment of all web-based services.

With a solid background in technological innovation and a penchant for putting together business process engineering and automation systems architecture to meet the express applied needs of special customers, he is dedicated to the further advancement of the Company's goals and objectives. Raymond eagerly participates as a member of the senior management team in establishing governance processes of direction and control to ensure that objectives are achieved, risks are managed, and the organization's resources are used responsibly.

Raymond is a strong interpersonal communicator, well versed in analyzing and assessing

communications' systems. He has a versatile writing style and is comfortable in developing various types of communications forms. This skill lends to the easy translation of his technical lingo into the language of the layman, so that all may "be on one accord".

En route to his present assignment as Chief Information Officer, Raymond has developed extensive

experience leading, managing, and educating various levels and categories of personnel. He is proficient in developing corporate vision statements, achievable goals, and measurable objectives. He is equally talented at transforming those goals and objectives into operational projects and tasks, along with associated evaluation tools and dynamically revisable forecasts.

Raymond's talent and skills have been used to propel to success such organizations as: Keane, Incorporated - Health Services Division, Los Angeles, California; Jackson State University Library Sciences Division, Jackson, Mississippi; TRW, Incorporated (IS & Planning Division), Redondo Beach, California, Pac-Tel Cellular Communications, Irvine, California and Hollywood Sound Systems, Hollywood, California.