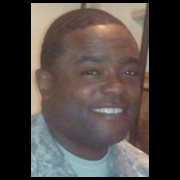 Al Hopkins
C
harity Resource Administrator
Central Mississippi
First Lieutenant (1LT) Alden R. Hopkins began his military career in July of 1989 as an enlisted soldier with the 1/14th Marine Corps Artillery Battery in Jackson, Mississippi. A graduate of Hinds Community College with an Associate Degree in Liberal Arts, Al is currently completing his degree at Post University in Logistics Management.
Commissioned as a second lieutenant in the Quartermaster Corps, in 2005, he became a first lieutenant in 2008 and during Operation Iraqi Freedom, served as Executive Officer of an Infantry company. He has been a Platoon Leader, Detachment Commander, Company Executive Officer, Supply Officer, and Company Commander. Al enjoys an extensive military educational background which includes the Support Operations Course, Contracting Representative Course, National Incident Management (FEMA), Basic Office Quartermaster Course, Basic Officer Leadership Course, Office Candidate Leadership Course, Primary Leadership Development Course, Combat Medic Course, Field Artillery Cannon Crewman Course, Marine Combat Training Course.
His military awards include the Meritorious Service Medal, two National Defense Service Medals, a Sea Service Deployment Ribbon, two Army Achievement Medals, a Non-Commissioned Professional Development Ribbon, and an Army Service Ribbon among others.
Al has two sons, and attends church at Greater Bethlehem Temple Church. He also is an active member of the Global Missions ministry where he has served as a volunteer in the Dominican Republic. Always quick to volunteer, helping others, he brings his compassionate heart and soul to ACTS furthering his commitment to make this world a better place.
Since 2006, he has been a faithful supporter and proponent of the ACTS movement seeing the benefits not only for his family's non-profit, Family Unity Now, but other churches and non-profits as well.