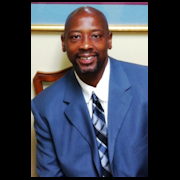 Kenneth Jackson
Charity Resource Administrator
Northern Mississippi
Kenneth is a native of Jackson, MS, where he is currently employed with Southeastern Freight Lines. Married for almost twenty-five years and father of five, Kenneth is active in his church, Greater Bethlehem Temple, as a deacon and audio technician. With an extensive career in the transportation industry, his travels have given him the opportunity to meet hundreds of people and observe the various needs of those less fortunate. Having a heart of compassion, he understands the scripture, "It is more blessed to give than to receive." (Acts 20:35) which is evidenced by his current and longstanding involvement in various charitable activities.
Kenneth's current work includes: mentoring at-risk youth for Community Organization of Health Awareness (COHA), donating goods and service to the Clinton Community Christian Corporation, providing senior/elderly support (transportation, food, assistance with medicine), and benevolence support to families/churches in distress.
He brings his strong work ethic and compassionate heart to ACTS in the role of a CRA where he plans to lead his teams by example. By sharing his love and true dedication of helping others, Kenneth's overall goal is to further extend his reach into the communities he is committed to serve.
.