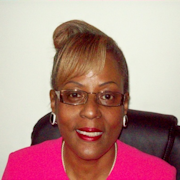 Richelle Rogers
Charity Resource Administrator
Maryland
Richelle is a native of Philadelphia, PA, graduating from Nazareth Academy. She holds a Masters Degree in Human Resources/Labor Relations from St. Francis University in Loretto, PA. She is also a United States Vietnam-era veteran and lived in West Germany for over seven years. Currently Richelle owns her own management consulting firm and is a licensed affiliate with Axxiom Franchise Advisors, LLC.
Richelle began her consulting career with the Barnes Foundation in Merion PA and has provided museum consultative services to the Rochester Museum & Science Center, the Frederick Douglas Resource Center and the Baobab Cultural Center, all located in Rochester, New York. She was also the Executive Director of President Clinton's Birthplace Foundation in Hope, Arkansas.
Prior to consulting, Richelle worked in the insurance industry as a Claims Adjustor, Systems Coordinator, Business Analyst and Director of Management Services. She worked for Nationwide Insurance Company, Pennsylvania National Insurance Company and PHICO Medical Malpractice Insurance Company. She also worked as the Collections Manager for PA Historical and Museum Commission responsible for the museum collection in Harrisburg and 27 historical sites throughout Pennsylvania.
Richelle is a Sustaining Member of the Junior League of Wilmington (Served as Vice President of JLH membership), and is currently a member of the New Castle Chamber of Commerce, NAWBO National and NAWBO Delaware (Served as President of this organization). She is also a member of News4Women and the Mid-Atlantic Networking Group. Richelle has been affiliated and served on the Board of Directors with such organizations as the American Association of Museums, the Junior League of Harrisburg, the Historical Society of Dauphin County, Altrusa International, Executive Women International and CONTACT Harrisburg and the National Board of CONTACT USA. She was also a member of EWi (Executive Women International, and "Who's Who of Executive Females International." Richelle speaks three languages, namely English, German and French. Richelle is married and the proud grandmother of triplets who live in New Hope, PA. Richelle and her husband, Jerry, currently reside in Elkton, Maryland.
As a CRA, Richelle brings her extensive networking and highly regarded management talents to ACTS where she will be working to create a substantial marketplace presence midway between Washington, DC and New York City, in the greater Elkton area.