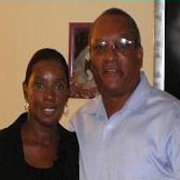 Ron & Altha Sample
Charity Resource Administrator
Southwest Louisiana & Southeast Texas
Ron is no newcomer to ACTS cause marketing initiatives and brings his extensive experience in sales management, sales training and operations skills to assist the Company with its team and partnership building efforts in Southwest Louisiana and Southeast Texas.
Formerly of Houston, Texas, Ron has a diverse a background in manufacturing associated with chemicals and polymers where he is accustomed to conducting business in highly regulated environments. Highlighting his in-depth sales management and entrepreneurial skills, he is a talented closer. Ron's savvy negotiation abilities will aid ACTS in vendor, corporate and charity partner acquisition while developing effective sales team building strategies to create an undeniable ACTS presence in U.S. southern markets. Working alongside his lovely wife Altha, the couple plans to coordinate their efforts to make a substantial impact in the lives of those they come into contact as they assume their CRA role.
Ron has enjoyed a distinguished career serving as a Parish of Calcasieu State of Louisiana Deputy Sheriff and is an active member of the Louisiana State Board of Insurance.